Datastrip integrates UPEK's sensor into handheld ID verification devices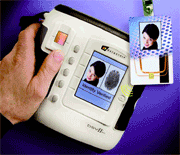 Datastrip Inc. has integrated UPEK's TouchChip TCS1 silicon fingerprint sensor into its DSVII-SC (smartcard) and DSVII-PA (passport) handheld ID verification devices. The UPEK TouchChip TCS1 is the first and only silicon fingerprint sensor approved by the General Services Administration for use in the Federal Information Processing Standard (FIPS 201) and Personal Identification Verification (PIV) Programs. The TouchChip TCS1 silicon sensor delivers proven fingerprint imaging capabilities for a wide range of usage conditions and finger types including dry and damaged fingers, making it an effective tool for reliably capturing fingerprint images in real-world conditions.
Read the full article at SecureIDNews.com.