CoreStreet's PIVMAN System receives FIPS 201 approval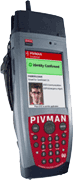 The PIVMAN System™ has been approved by the US General Services Administration (GSA) as being compliant with the Federal Information Processing Standard 201 (FIPS 201). The PIVMAN System uses the FIPS 201 infrastructure for credential checking and is also fully functional without network connectivity. The system can display accurate information about cardholders from any federal, state or local agency that has issued credentials based on FIPS 201. PIVMAN is the fourth CoreStreet product listed on the Approved Product List.
Read the full article at SecureIDNews.com.