DAP unveils new options for handheld ID reader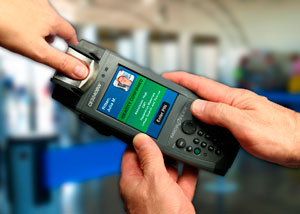 RMT Inc's DAP Technologies has released new options for its DAP Guard System. The handheld computer can now perform Transportation Worker Identification Credential verification, vascular biometric identification, remote control of video security and access control systems, and terrorist watch lists interface.
DAP is able to add these functionalities through partnerships with AMAG Technology, CoreStreet, Hawkeye Technologies, Identica, inFront, Intellicheck Mobilisa, Senture Security Solutions and TransCore.
Highlights of the handheld include:
TWIC Verification – Developed in conjunction with TransCore, Intellicheck Mobilisa and CoreStreet, DAP's Guard System can be customized with the TWIC configuration. It is FIPS 201 certified and has received Transportation Security Administration authorization for use in security clearance of millions of personnel accessing the nation's ports. Hawkeye, Identica and Senture provide additional identity-validation solutions.

Vascular Scanning – Using near-infrared imaging, Identica's vascular biometric scanners examine the thermal image of the vein pattern in the back of a person's hand to positively identify them.

Database Management and Watch-List Checks – Intellicheck Mobilisa's software can read an ID card and run a check against more than 100 watch and terrorist lists. CoreStreet and inFront provide remote database-access solutions.

Access Control – Utilizing software designed by Hawkeye Technologies or inFront and integration by AMAG Technology or CoreStreet, DAP's Guard System enables users, in real-time, to verify and manage cards, clear alarms, control hardware and view live video in the field using a Wi-Fi connection.

GPRS – DAP's Guard System is enabled with Wireless Wide Area Network access, allowing users remote access to the Internet and virtual private networks.

GPS – A second-generation SiRF GPS has been added to the Guard System, allowing for faster acquisition times and stronger signals in most locations.

Universal Imager Camera – The new DAP Series Camera is an all-in-one solution that provides color video and still images in a variety of lighting conditions, and can read 1D/2D barcode and OCR fonts.