Episode 66: PKI and the Common Access Card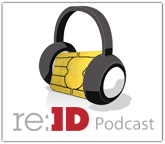 The U.S. Department of Defense has one of the largest Public Key Infrastructures in the world. Getting to that point wasn't necessarily easy, says Scott Jack, director of identity assurance for DOD PKI. Jack spoke about the role PKI plays with the Defense Department credential and how it may be used in the future, including form factors other than smart cards.
Without PKI the Common Access Card would be just another ID, says Scott Jack, director of identity assurance for DOD PKI. "The PKI literally binds the human identity to a virtual identity in cyberspace," he says. "It cryptographically asserts an identity that's been proofed and vetted for the lifetime of the credential."
The Defense Department is planning to expand the use of PKI, including adding the technology to non-person entities such as routers, switches, hubs and even PDAs and laptops, Jack says. "The devices would have a PKI that is bound and vetted so it would be recognized on a digital level," he says.
They are also considering the use of other form factors, such as mobile devices, for credentials to login to networks, Jack says. "We're starting to look at technology that's available to the commercial sector that comes in a number of different form factors," Jack says.
| | | | |
| --- | --- | --- | --- |
| iTunes | Aggregator | m4a | mp3 |