Four new SDK's enable fingerprint authentication for Windows-based applications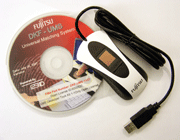 Fujitsu Microelectronics America and 123ID recently introduced new development kits that enable developers to quickly incorporate fingerprint authentication into Windows-based applications used in network authentication, secure fingerprint ID login, password replacement, file encryption, access control, POS, and commercial and government identity-management systems. The new Software Developer Kits (DKF-UMS-1120, 1130, 1117 and 1137) incorporate a vector/minutia-based fingerprint authentication algorithm with fingerprint-image-capture software, which provides 8-bit 500-dpi forensic quality images. The SDK is compatible with FIPS 201.
Read the full article at ThirdFactor.com.