'Real' and large, contactless rollouts are coming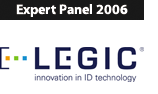 A panel of ID industry experts provided predictions for 2006. One of these glimpses into the future will appear here each day during December.
By Stephen Neff, VP Sales and Business Development, LEGIC Identsystems Ltd
2006 will be a boom year for the contactless smart card industry. We will witness an increased number of rollouts of real contactless multi-application smart cards in large corporations, not only in Europe, but also in Asia and North America.
Read the full article at SecureIDNews.com